Rev. Matthew H. Johns intimately knows the dangers lurking and preying upon America's youth.  Raised in a single family household due to divorce, Matt fell into drugs and alcohol at the age of 14.  After 14 years of substace abuse Matt decided to follow Jesus at age 27.  Several years later he met his lovely wife Ashley in a singles group at church, and they were married in 2006. They have a son named Noah.

Matt responded to the call of ministry in 2007 being licensed by Peachtree Corners Baptist Church, leaving his culinary carreer, and then becoming an Oradained Pastor in 2012 through Peachtree Corners Baptist Church.  Matt has received two seminary degrees.  His first degree was a B.A. of Religion from Luther Rice Seminary, and his second degree was a M.A. in Evangelism and Church Planting from Liberty University.  Matt is affiliated with the North American Mission Board (NAMB) as an MSC Missionary and is a living testimony of God's amazing grace; overcoming a dysfunctional family life, suicidal depression, drug and alcohol addiction, pornography addiction, and fear of failure through a personal relationship with Jesus Christ.  It is the passion of Matthew's heart to bring revival, renewal, and restoration to his community, and througout the world, by loving and serving others.

Matt and Ashley enjoy traveling the world to share the Gospel of Jesus Christ.  Between the two of them they have taken trips to Africa (5X), Costa Rica (2X), Russia (2X) Turkey, and Romania.  Nationally they have traveled to Dearborn, MI to work among Arab people, Hungry Horse, MT (3X) to work with at-risk kids, inner city Charlotte (6X) with Jackson Park Ministries, and South Dakota to serve the native American Lakota Tribe.  Their family enjoys football, snow skiing, and enteraianing friends and family in their home. Noah keeps the family in tune and has a servant's heart.  The prayer of his parents is that Noah live as a rightoeus man of his day, and help many others come to know God's love.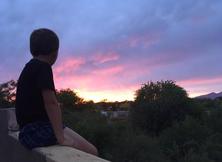 "Repent for the Kingdom of God is near."

Matthew 3:2